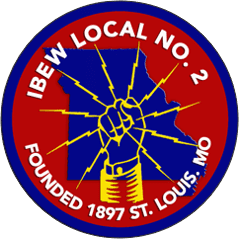 IBEW Local 2
St. Louis, MO
IBEW Local 2 Income Protection
Continue getting paid if you can't work due to illness, injury, or death!
PLAN INFORMATION OVERVIEW
– Short-Term Disability (STD) pays for up to 24 weeks
– Long-Term Disability (LTD) pays for up to 2 or 5 years
– Life Insurance w/ AD&D for Member, Spouse, and/or Child(ren)
No medical tests, questions, or underwriting to enroll; no active working member of the IBEW Local 2 can be denied coverage!
Are your current benefits enough?
Short-Term Disability
Through LINECO, some Members receive $600 per week (less taxes) for 26 weeks. This is only about 45% of what a Local 2 Member brings home for a 40 hour work week and leaves you with a big income GAP/deficit!
Long-Term Disability
Members receive $0 LTD benefits after STD ends. Having no monthly benefit puts 100% of your income at risk!
Life Insurance
Your current 'Death Benefit Fund' may pay enough to cover burial expenses (if you're participating & it would be taxed).
COVID-19 (Coronavirus) Disability FAQ
It is important to understand that these Life and Disability benefits DO cover COVID-19 (Coronavirus) in the event that you contract the virus and cannot work (to include being quarantined after being diagnosed with COVID-19) or pass away as a result of the virus.
The below list provides the main parameters a member's claim must meet in order to be eligible to file a claim for the Coronavirus. However, there may be other factors that would impact a Coronavirus claim.
Only cases of the Coronavirus that are medically diagnosed and documented by a medical professional would constitute as eligible for benefits
Members who are quarantined due to testing positive for Coronavirus would be eligible for benefits
Members who are quarantined as a preventative measure and do not have an official Coronavirus diagnosis by a medical professional would not be eligible for benefits, including, but not limited to;
– Jobsite shutdowns for preventative measures
– Furloughs, layoffs, etc.
– Care for a loved one who has been diagnosed or exposed
The normal waiting period still applies, so the member needs to be held out of work by a medical professional for longer than their waiting period in order to be eligible
Members enrolling for coverage now, but who do not yet have effective coverage, would not have an eligible Coronavirus claim if:
The member enrolls now for a future coverage effective date and already has a medically diagnosed case of Coronavirus or has seen their doctor for signs/symptoms of the Coronavirus
The member's coverage is not effective and in force prior to seeing a medical professional or being diagnosed
Please call us at 224-770-5305 for more information.